2023 Calls Stats
Jan
34
Feb
36
Mar
13
Apr
27
May
Jun
Jul
Aug
Sep
Oct
Nov
Dec
Total
110
2022 Calls Stats
Jan
24
Feb
31
Mar
27
Apr
31
May
24
Jun
21
Jul
33
Aug
32
Sept
24
Oct
38
Nov
30
Dec
27
Total
342
Past Call Stats
2017
365
2018
445
2016
370
2019
390
2015
405
2020
340
2014
360
2021
347
2013
296
2022
342
2012
450
2011
543
2010
408
2009
312
2008
360
2007
409
2006
349
2005
361
2004
265
2003
251
T 2021 Call Stats
Jan
25
Feb
20
Mar
22
Apr
25
May
30
Jun
23
Jul
39
Aug
42
Sept
46
Oct
36
Nov
22
Dec
17
Total
347
Web Counters
Website Visitors
Since
July 1, 2007

Visitors Today
Jun 02, 2023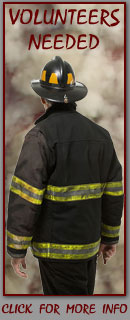 Is your house number displayed properly?
By Ex Chief Robert Knapp
January 5, 2022
Is your House Number Visible and Displayed Correctly????
Think of this scenario, there's an emergency at your house. You dial 911 and speak to the dispatcher. However, it seems like it's taking a long time for help to arrive.
Meanwhile, Fire and police have arrived on your street but they're having problems finding your house.The house doesn't have any easily identifiable numbers on it and the mailbox is blocked by trees
Seconds Count in an Emergency:
• Protect your family and your property by having large visible house numbers.
• Firefighters, police officers, and EMT's find you faster when your home is properly marked.
• A visitor, child or injured person may be unable to give clear
directions.
• Emergency personnel from a neighboring community may
be unfamiliar with your area. Use Large Visible Numbers
• Numbers need to be at least 4-inches in height and facing the street.
• Put the numbers under lighting, and use numbers with a contrasting background, so they will be visible at night.
• If your driveway is long, post your house number on both sides of a mailbox or sign pole at the end of the driveway near the road.
• Be sure to keep numbers visible by trimming trees and bushes.
Thank you!
Website Designed and Hosted By
Content Maintained By
Contact Info

www.FirehouseSolutions.com


Oakland Fire Department
25 Yawpo Ave
Oakland, NJ 07436


Emergency Dial 911
Station: (201) 337-5691
Station Fax: (201) 337-1638
E-mail: info@oaklandfd.org

| | |
| --- | --- |
| | Copyright © 2023 Firehouse Solutions (A Service of Technology Reflections, Inc.) |