Serving Oakland For
39,794 Days
2018 Call Stats
Jan
41
Feb
29
Mar
67
Apr
24
May
9
Jun
Jul
Aug
Sep
Oct
Nov
Dec
Total
170
Past Call Stats
2017
365
2016
370
2015
405
2014
360
2013
296
2012
450
2011
543
2010
408
2009
312
2008
360
2007
409
2006
349
2005
361
2004
265
2003
251
Web Counters
Website Visitors
Since
July 1, 2007

Visitors Today
May 25, 2018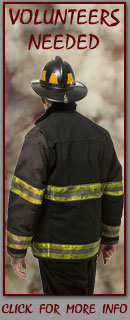 Oh Deer! This time it wasn't Timmy who fell in the well
By Photographer Frank Di Pentima
June 10, 2014
On Tuesday, June 10th the OVFD were dispatched to help a baby deer, most likely a yearling, who had become trapped in a storm drain on Raeben Avenue.
It wasn't exactly know how the yearling got into the storm drain but it was clear that the baby deer was in some distress as it was jumping inside the storm drain trying to escape. Firefighters responded to the scene and lifted the storm grate on both sides of the street in order to provide access to the yearling. Chief Curt LeRoy then lifted the yearling out of the storm drain and held it so firefighters and Police officer Tom Pianettini could assess its condition.
The baby deer suffered some minor scrapes on its head but was quickly reunited with mom as she watched the firefighters rescue her precious baby. As soon as the yearling was released it ran towards the woods and mom followed closely behind and provided comfort once they were both a safe distance from the residents that turned out to watch the rescue.
The rescue by the Oakland Volunteer Fire Department would have made Lassie very proud.
Chief LeRoy reaches in to remove the yearling from the storm drain

Baby looks fine and calls for Mom

Mom watches - then sprints towards her yearling once its released

Mom and baby reunited
Website Designed and Hosted By
Content Maintained By
Contact Info

www.FirehouseSolutions.com


Oakland Fire Department
25 Yawpo Ave
Oakland, NJ 07436


Emergency Dial 911
Station: (201) 337-5691
Station Fax: (201) 337-1638
E-mail: info@oaklandfd.org

| | |
| --- | --- |
| | Copyright © 2018 Firehouse Solutions (A Service of Technology Reflections, Inc.) |