Serving Oakland For
38,544 Days
2014 Call Stats
Jan
46
Feb
21
Mar
34
Apr
24
May
22
Jun
22
Jul
38
Aug
27
Sep
39
Oct
31
Nov
32
Dec
12
Total
348
Past Call Stats
2013
296
2012
450
2011
543
2010
408
2009
312
2008
360
2007
409
2006
349
2005
361
2004
265
2003
251
Web Counters
Website Visitors
Since
July 1, 2007

Visitors Today
Dec 22, 2014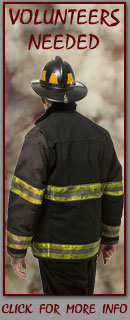 The Oakland Fire Department volunteering for over 100 years.
---
---
Santa Claus is coming to Oakland.....

Ex Chief Robert Knapp, November 27

It's that time of year again. This year the Oakland Fire Department will be bringing Santa Claus around Oakland on the Fire Trucks ONLY on Saturday 12/20/14 rain or shine. Below find a schedule of the stops, all times are approximate: Please note the change in the schedule to Saturday 12/20/14 only this year.

Robert Knapp Ex-Chief Oakland Fire Department

Saturday 12/20/14 – North side of town 10:20am ... (Full Story & Photos)



Joe, with his wife and children being sworn in by the Mayor.

New Members Added to the Ranks

Photographer Frank Di Pentima, November 16

The Oakland Volunteer Fire Department has welcomed several new members to our ranks recently. We have one active firefighter and two new junior firefighters who have committed to serving the Community.

Joe Laterra was sworn in at the September 23rd Council meeting and Michael Cassella and Sean Torpey, the son of Oakland firefighter Tom Torpey, were both sworn in as Junior members at the November ... (Full Story & Photos)


Department Trains on Vehicle Extractions

Photographer Frank Di Pentima, November 08

Members of the Oakland and Franklin Lakes volunteer fire departments recently went through vehicle extraction training at the storage yard of Dynasty Towing in Oakland. With our proximity to routes 208 and 287, our members routinely respond to auto accidents on both roadways and more often than not an extraction from a crashed vehicle is required.

Training was conducted by Joe Alvarez, an instructor ... (Full Story & Photos)


Oh Deer! This time it wasn't Timmy who fell in the well

Photographer Frank Di Pentima, June 10

On Tuesday, June 10th the OVFD were dispatched to help a baby deer, most likely a yearling, who had become trapped in a storm drain on Raeben Avenue.

It wasn't exactly know how the yearling got into the storm drain but it was clear that the baby deer was in some distress as it was jumping inside the storm drain trying to escape. Firefighters responded to the scene and lifted the storm grate on ... (Full Story & Photos)


A Team for the Ages

Photographer Frank Di Pentima, June 08

For the second strait year, the Indian Hills Braves Softball team captured the Group 3 State championship title with an impressive and record setting win over Ewing 8-5 on Saturday, June 7th. This is the crown on top of the cake as the Lady Braves won the Bergen County title beating parochial powerhouse Immaculate Heart Academy, won the Group 3 Sectional title and now the overall Group 3 State title. ... (Full Story & Photos)



Mayor Schwager presents Grand Marshall Jack Bruni with a plaque

Oakland Memorial Day Parade

Ex Chief Robert Knapp, May 27

Oakland had great weather on Sunday for the Annual Memorial Day Parade. This years Grand Marshall Jack Bruni is the father of past Oakland Firefighter Larry Bruni.

Jack Bruni, Oakland's Memorial Day parade grand marshal, was born in New York City and raised in Astoria, Queens. He attended city schools and graduated in 1942 from the Manhattan High School of Aviation.

Bruni was drafted into the US ... (Full Story & Photos)


North West Bergen Mutual Aid Field Day Champions - Once Again!

Photographer Frank Di Pentima, May 18

Members of the Oakland Volunteer Fire Department recently competed at the 2014 NWBMA Field Day competition and for the 4th time in the last 5 years Oakland won came in First Place overall at this event.

This Year's event was hosted by the Ridgewood Fire Department and 9 towns competed in the annual fire skills competition covering. This year's events covered Fire Attach, Firefighters Challenge and ... (Full Story & Photos)



We are the Champions!



Fire safty tips

10 Fire Safty Tips

Firefighter Robert Eaton, March 26

Oakland Fire department wants you to be safe! Please review some standard fire safty tips.

1)Install and Maintain Smoke Detectors Smoke detectors warn you of fire in time to let you escape. Install them on each level of your home and outside of each sleeping area. Follow the manufacturer's directions, and test once a week. Replace batteries twice a year, or when the detector chirps to signal that ... (Full Story & Photos)

Your feedback is important to us! Feel free to sign the guestbook.

Website Designed and Hosted By
Content Maintained By
Contact Info

www.FirehouseSolutions.com


Oakland Fire Department
25 Yawpo Ave
Oakland, NJ 07436


Emergency Dial 911
Station: (201) 337-5691
Station Fax: (201) 337-1638
E-mail: info@oaklandfd.org

| | |
| --- | --- |
| | Copyright © 2014 Firehouse Solutions (A Service of Technology Reflections, Inc.) |