Serving Oakland For
40,157 Days
2019 Call Stats
Jan
24
Feb
24
Mar
43
Apr
35
May
13
Jun
Jul
Aug
Sep
Oct
Nov
Dec
Total
139
Past Call Stats
2017
365
2018
445
2016
370
2015
405
2014
360
2013
296
2012
450
2011
543
2010
408
2009
312
2008
360
2007
409
2006
349
2005
361
2004
265
2003
251
Web Counters
Website Visitors
Since
July 1, 2007

Visitors Today
May 23, 2019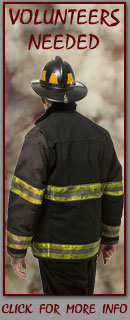 The Oakland Fire Department - volunteering for our Community for over 105 years.
---
---
Memorial Day Service

Photographer Frank Di Pentima, May 21

On Sunday, May 26th, the Borough of Oakland will hold its annual Memorial Day parade. Prior to the parade the Oakland Volunteer Fire Department will host our annual Memorial Day service honoring our fallen members, many of who where proud members of our Armed Forces.

All are welcome to join us at for this ceremony, which will begin promptly at 11:30 AM at the Company One firehouse located on 25 ... (Full Story & Photos)




Left to right Co 1 Captain Donald Johnston, Co 1 Asst. Chief Lewis Thurston, Department Chief Vincent Dies, Mayor Linda Schwager, Councilman Robert Knapp, Co 1 Lt. Cesar Arredondo, Co 2 Lt. Daniel DeRisi, Co 1 Lt. Matt Sorce. Joined by their children!

Congratulations to the 2019 Officers

Ex Chief Robert Knapp, January 13

Congratulation to the 2019 Officers of the Oakland Fire Department. Wishing everyone a very productive and safe 2019.

Department Chief - Vincent Dies

Company 1 Officers
Lewis Thurston - Assistant Chief
Donald Johnston - Captain
Matt Sorce - Lieutenant
Cesar Arredondo - Lieutenant

Company 2 Officers
Gary Walker - Assistant Chief
Vincent Incorvaia - Captain
Steven Longa - Lieutenant
Daniel DeRisi ... (Full Story & Photos)


10 Fire Safty Tips

Oakland Fire Department, July 24

Oakland Fire department wants you to be safe! Please review some standard fire safty tips.


1)Install and Maintain Smoke Detectors
Smoke detectors warn you of fire in time to let you escape. Install them on each level of your home and outside of each sleeping area. Follow the manufacturer's directions, and test once a week. Replace batteries twice a year, or when the detector chirps to signal that ... (Full Story & Photos)



Fire safty tips

Class A Live Burn Training

Photographer Frank Di Pentima, April 20

On Friday, April 20th, members of the Oakland Volunteer Fire Department attended a Class A Live Burn training exercise at the Bergenfield Fire Training Center (B.F.T.C.).

Ten members from the Department took place in the training offered at the B.F.T.C. where they practiced live burn scenarios in a controlled environment meant to replicate conditions of a real structural fire event. It was a terrific ... (Full Story & Photos)


OVFD Holds Fire Attack Training at Bergern County Fire Academy

Photographer Frank Di Pentima, April 02

On Monday, April 2nd, members of the Oakland Volunteer Fire Department participated in fire attack training at the Bergen County Fire Academy (BCFA).

The purpose of the training was to not only provide our experienced volunteer firefighters with an opportunity to hone their attack and water application skills, it was also a chance for our younger firefighters to get experience in situations they ... (Full Story & Photos)

Oakland FD mourns the passing of a former Chief

Ex Chief Robert Knapp, March 25

It is with heavy heart that the Oakland Fire Department announces the passing of our former Chief Bernard (Bernie) Hickey. Bernie was a 2 time fire chief for the department. Bernie was a great man that was always there for you when you needed help......

RIP Chief..... (Full Story & Photos)

Powerful Nor'easter Knocks Down Trees and Power Lines

Photographer Frank Di Pentima, March 02

On Friday, March 2nd, a powerful nor'easter came through NJ cutting a path of downed trees and power and lines knocking out electrical service to thousand of people in the state.

With a steady falling of rain, mixed with snow and sleet, fueled by wind gusts in the 40 to 50 mph range, had the the OVFD responding to numerous calls of sparking power lines, fallen trees and blocked roads. The volume ... (Full Story & Photos)



Tree and wires down on Seminole Ave

Your feedback is important to us! Feel free to sign the guestbook.