Serving Oakland For
38,641 Days
2015 Call Stats
Jan
31
Feb
30
Mar
Apr
May
Jun
Jul
Aug
Sep
Oct
Nov
Dec
Total
61
Past Call Stats
2014
360
2013
296
2012
450
2011
543
2010
408
2009
312
2008
360
2007
409
2006
349
2005
361
2004
265
2003
251
Web Counters
Website Visitors
Since
July 1, 2007

Visitors Today
Mar 29, 2015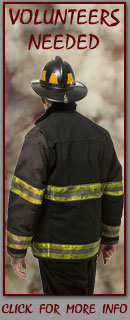 The Oakland Fire Department volunteering for over 100 years.
---
---
A warm embrace for Longtime OVFD Member Lester Woodward

Photographer Frank Di Pentima, March 01

On Sunday, March 1st, 58 year Oakland Volunteer fireman Lester Woodward was surprised by dozens of his fellow firefighters as they stopped by on a snowy day to wish Les well on his move to Texas.

Lester and his wife are relocating to be closer to their daughter and other family members. Les has been a fixture on the all-volunteer fire department for close to 60 years and the outpouring of support ... (Full Story & Photos)



The Group gathers to honor Lester.


Daisy Troop 96487 Visits the Oakland Volunteer Fire Department

Photographer Frank Di Pentima, February 28

On Saturday, February 28th, the Oakland Volunteer Fire Department recently hosted Oakland Daisy Troop 96487 and gave the girls and their parents a tour of the Company 1 firehouse.

The tour was led by Oakland Volunteer Firefighter Don Harvey who also serves the community as a Policeman for the Borough. Fireman/Officer Harvey spoke to the girls about what it takes to become a member of the all-volunteer ... (Full Story & Photos)


2015 Annual Installation Dinner

Ex Chief Robert Knapp, January 19

The Oakland Fire Department held it's annual installation dinner Saturday night 1/17/15 at the Brownstone Inn in Paterson. This dinner is to introduce the 2015 officers, recognize the 2014 accomplishments of the department as a whole and individual members.
The 2015 Officers were introduced as follows:

Department Chief - Curtis Leroy
Co1 Assistant Chief - Charles Kelly
Co2 Assistant Chief - David ... (Full Story & Photos)

Slick Road Conditions

Photographer Frank Di Pentima, January 03

At approximately 9:00 PM on Saturday evening, a car overturned most likely the result of slick road conditions on Breakneck Road caused by the brief winter storm that blanketed our area. Luckily no serious injuries were reported as of the posting of this story. ... (Full Story & Photos)

Helping a Brother Firefighter from Texas

Firefighter John Madden, January 03

When a fourth generation, fireman from Wake Village Station Texas asked the Oakland Fire Department for a ride, the members of the Oakland Fire Department responded with a big YES. Firefighter Justin Woodward wanted to surprise his grandfather, Les Woodward (over 50 years with OFD). The members of Oakland Co 1 and Co 2 slightly altered a planned drill to include providing assistance to Justin in ... (Full Story & Photos)



Les greets the Oakland firefighters



Now that's a real beard!

Santa Claus came to town with the help of the Oakland FD

Firefighter John Madden, contributing photography and content Tim DeBlock and Frank Di Pentima, December 20

On Saturday December 20th, the Oakland Volunteer Fire Department assisted Santa as he was making his list of children to include in his annual Christmas gift deliveries. This year Santa was on both sides of town at the same time assisted by Co 1 on the south side of town and Co 2 on the north side of town. Only Santa can be in 2 places at the same time.

In addition to Santa making the children ... (Full Story & Photos)


New Members Added to the Ranks

Photographer Frank Di Pentima, November 16

The Oakland Volunteer Fire Department has welcomed several new members to our ranks recently. We have one active firefighter and two new junior firefighters who have committed to serving the Community.

Joe Laterra was sworn in at the September 23rd Council meeting and Michael Cassella and Sean Torpey, the son of Oakland firefighter Tom Torpey, were both sworn in as Junior members at the November ... (Full Story & Photos)



Joe, with his wife and children being sworn in by the Mayor.


Department Trains on Vehicle Extractions

Photographer Frank Di Pentima, November 08

Members of the Oakland and Franklin Lakes volunteer fire departments recently went through vehicle extraction training at the storage yard of Dynasty Towing in Oakland. With our proximity to routes 208 and 287, our members routinely respond to auto accidents on both roadways and more often than not an extraction from a crashed vehicle is required.

Training was conducted by Joe Alvarez, an instructor ... (Full Story & Photos)

Your feedback is important to us! Feel free to sign the guestbook.

Website Designed and Hosted By
Content Maintained By
Contact Info

www.FirehouseSolutions.com


Oakland Fire Department
25 Yawpo Ave
Oakland, NJ 07436


Emergency Dial 911
Station: (201) 337-5691
Station Fax: (201) 337-1638
E-mail: info@oaklandfd.org

| | |
| --- | --- |
| | Copyright © 2015 Firehouse Solutions (A Service of Technology Reflections, Inc.) |